Anderson Valley
The Kimmie, The Yink &
The Holy Gose
89 on Ratebeer
With a bright, golden color and tight creamy head, the earthy wood undertones in our Gose develop into a light mineral aroma with a hint of lemon zest and tropical fruit. Before boiling, the wort is kettle soured with lactobacillus, imparting an initial refreshing tartness that gives way to a subtle fullness. Flavors of guava and peach are followed by a slight sea salt dryness and lemon sourness that is enhanced by coriander and post-fermentation additions of salt. The finish is dry, effervescent, and lemon tangy, reminiscent of a fresh sea breeze.
FOOD PAIRINGS: Smoked Salmon, Oysters, Pad Thai, Bitter Greens (Arugula, Mizuna)
Anderson Valley
Wild Turkey Bourbon Barrel Stout
97 on Ratebeer
Aged for three months in Wild Turkey Bourbon barrels, this luxurious stout has a deep ebony hue and a beautiful mahogany head.
The woody, vanilla-like notes imparted by the barrels mingle with aromas of fresh baked bread, toffee, and espresso and envelop the rich chocolate and roasted barley flavors with a fine bourbon character.
Our exclusive partnership with Wild Turkey gives Anderson Valley a world class, consistent source of barrelage, allowing our brewers to explore new frontiers in barrel-aged craft beer.
Bell's Brewing
Oarsman
Designed as a flavorful session beer, Oarsman Ale uses a classic German brewing technique to impart a light, refreshing tartness. Oarsman Ale grew out of a desire to explore the tradition of session beers, trading intensity for finesse while still creating a worthwhile experience for the taster.
The grain bill includes a healthy portion of wheat, while light hopping lend citrus & herbal notes to the aroma. Fermented with Bell's house ale yeast, Oarsman comes in at 4.0% alcohol by volume.
Rather than being the dominant flavor note, the tartness in Oarsman takes on more of a palate-cleansing role, making it perfect with meals or purely on its own.
DuClaw
Funk - Blueberry Citrus Wheat
Morgazm - Grapefruit Zested Blonde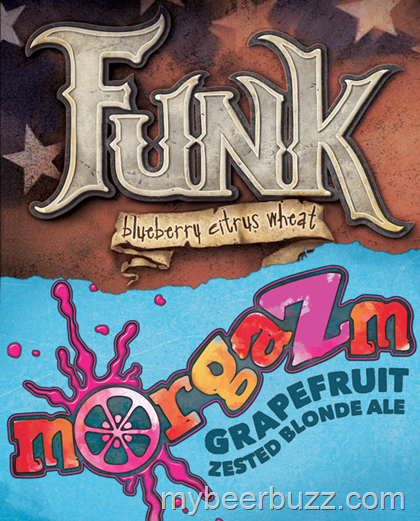 Funk

, our 4.5% abv Blueberry Citrus Wheat Ale, is setting the rhythm with a soulful fusion of American wheat and hops, before unleashing a stunning encore with big notes of blueberry and Meyer lemon. You'll just dig it!
Morgazm

, our 5% abv Grapefruit Blonde ale, is dry-hopped with Citra to add citrusy notes of lemon; and infused with grapefruit zest for a tart, refreshing taste that will keep you in the mood all night. Get your juices flowing!
Founders
Double Trouble DIPA
Double Trouble is whopper of an imperial IPA that has garnered a lot of attention from Founders supporters and IPA lovers alike.
Off the nose you get all kinds of citrus fruits – tangerines, oranges, grapefruits – which really showcase the high IBU levels of the beer. Despite the large nose, this beer is very well balanced by malts.
While balanced, this is still a bruiser of an IPA. You're going to get resin and citrusy hops throughout the drink and finish of this beer. Overall, this is a great beer for all manner of beer lovers. It's a seasonal release, so come grab case while you can. 9.4%
Great Lakes Brewing
Commodore Perry - IPA
English India Pale Ale- 7.5% ABV. The golden yellow color leads to citrus-like aromas with hints of pine. The slick mouthfeel delivers well balanced citrus and pine hops with malts. A bit of a sweet note on the finish.
Not over the top with hops; delicious and very drinkable.
Heritage Brewing
American Expedition
Freedom Isn't Free - IPA
AMERICAN EXPEDITION - Honey Ginger Wheat
From sea to shining sea was once only a dream. This dream became a reality thanks to a band of 33 travelers who braved the western expanse of America. Lead by two of America's greatest expeditionaries, they traveled over the mountains and valleys, through the plains and across the rivers, building friendships and narrowly escaping death from their enemies. Starvation nearly took them, but the steadfast devotion and help of a native woman brought them to eternal glory.
Let us remember the Corps of Discovery with the American Expedition, a light bodied American wheat ale. Bathed in farmers honey and spiced with ginger, it will give any traveler the fortitude and perseverance to carry on.
Pours a hazy golden color. Mild aromas of wheat, ginger, honey and spice carry to the flavors, where the honey really shines, with notes of clover. Lively carbonation keeps it crisp and refreshing. 4.5%
FREEDOM ISN'T FREE - IPA
It is paid for with the tolls of heroes past and present, it is the backbone that our nation has held to since its inception and it is the air that we breathe and the dreams that we chase. This IPA is our representation of the powerful American hopped pales that we all love and cherish. As we cherish the freedom we hold dear to us, let us rise our pints to those who have paid for it and those who still protect it. God bless the USA.
Pours a clear copper color. Floral, earthy hop notes on the nose. Floral, piney hops carry the flavor on a grainy, bready malt backbone. Finishes dry. 6.2%
Shipyard Brewing
Smashed Pumpkin
95 for Style on RateBeer
SMASHED PUMPKIN is a big-bodied beer with a light coppery orange color and pleasing aroma of pumpkin and nutmeg.
Pale Ale, Wheat and Light Munich Malts combine with the natural tannin in pumpkin and the delicate spiciness of Willamette and Hallertau Hops to balance the sweetness of the fruit.
Smashed Pumpkin pairs well with sharp cheeses, nuts, lamb, hearty stews and desserts like flan or pumpkin pie. Chefs find this an excellent beer to cook with in dishes such as braised short ribs.
PumpkinHead
Pumpkinhead Ale is a crisp and refreshing wheat ale with delightful aromatics and subtle spiced flavor. Hints of cinnamon and nutmeg make this fall brew a flavor sensation.
A few reminders from last week
Victory Summer Love
American Blonde Ale
There are plenty of reasons to love summer, and here is one great one! German hops and pale malt blend beautifully to create this refreshing taste of summer.
With the sublime, earthy familiarity of noble European hops backed up by fresh, clean German malts, Summer Love Ale ends with a surprising burst of lemony refreshment from fistfuls of American whole flower hops. Love Summer, now.
ABV: 5.2%
Pizza, chicken and salads
Foothills Brewing
Jade IPA
97 on RateBeer
Jade. Exotic jewel of the orient. Now a gem of an IPA. Bold, citrusy Pacific Jade hops lend striking tropical fruit notes and a hint of peppery finish to this easy-drinking IPA. Dry hop additions of Chinook and Citra add heady aroma and bold flavor. A special beer to charm the hop lover in you. Go ahead. Get Jaded.
Jack's Cider
Conewago Orchard
96 for style on RateBeer
Made from the finest cider apples we grow at Conewago Orchard. These apples are pressed fresh off the tree and aged to perfection resulting in an off dry hard cider with just a touch of sweetness to complement the natural acidity and spiciness. 5.5%
Lazy Magnolia
Me and the Dev Ale
American Strong Ale
Me and the Dev-Ale is a rustic brew inspired by the MIssissippi Delta Blues and its folklore. Our Autumnal release from the Lazy Magnolia Back Porch series is an 8% ABV Mississippi Strong Ale that pours a dark and sinister ruby red beneath a creamy off-white head. The seductive caramel-sweetness is enveloped by resinous pine and citrus hops aroma, while delivering to the palate sweet biscuit, with a deluge of spicy hop bitterness in the finish. Find yourself at the 'crossroads' of alluring malt character and deviant hop backbone in this infamous ale, while celebrating the Blues Legends of the Mississippi Delta.
Stone Saison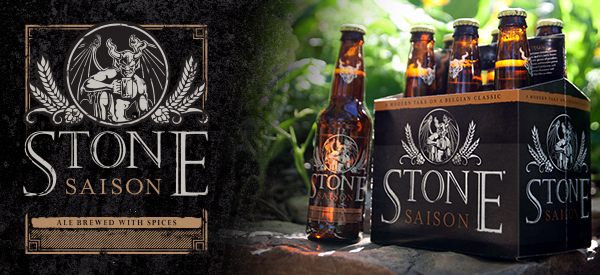 A taste of our homespun farm-to-tableism is provided in this farmhouse ale stoked with lemon zest, plus lemon thyme and lavender straight from Stone Farms. This spring-to-summer saison is citric and herbal on the palate with a dry, peppery finish. Thanks to the infusion of fresh West Coast ingredients, this isn't your everyday saison. It's our saison—100% Stone.